Our organisation is a chapter of the NSW Fellowship of First Fleeters.
Our members meet bi monthly on the first Saturday of each second month to discuss matters relating to the colonisation of Australia when our ancestors first arrived on the First Fleet in 1788.
Our membership is at present 48 but the numbers who would be eligible in the Tamworth area alone could be in the hundreds.
Our Mission
Our mission is to remind the public of our valuable heritage.
"To live in the hearts and minds of descendants is never to die"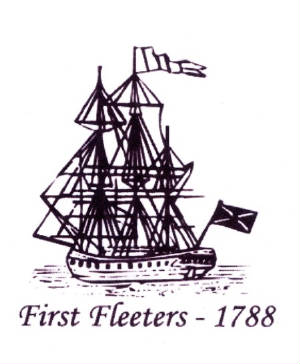 Organization News
To view photos of our activities please click on "Photos" in the left hand column. We will be conducting all future meetings at the Family History rooms 62 North St Tamworth.
Our systym of using our own members as guest speakers is very popular.
We had a great Australia Day again this year with breakfast at the Tamworth Entertainment Centre (TREC) and then our usual pilgramage to Wallabadah for an Australia Day Picnic in the First Fleeters Memorial Park.
A new memorial to those who travelled on the Second Fleet has now been added.
Go to "10th Birthday" on the left hand column for photos and story.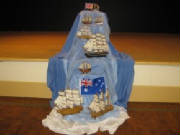 Becoming a Member
To become a member please phone the Secretary Mrs Jo Crossing on (02) 67668255 or President Graham Tydd 67667221, or Treasurer Stephen Docking on 67622408 or attend one of our bi monthly meetings which are usually held at the Family History Rooms at 62 North St Tamworth on the first Saturday of Feb, April, June, August, & October. Commencing at 1.30pm.
The photo is of the 2012-13 board. Sitting is the incoming President Graham Tydd, Secretary Jo Crossing and Treasurer Steve Docking.
Insert is Anne Ware and Jennifer Porter.
Board for 2012 - 13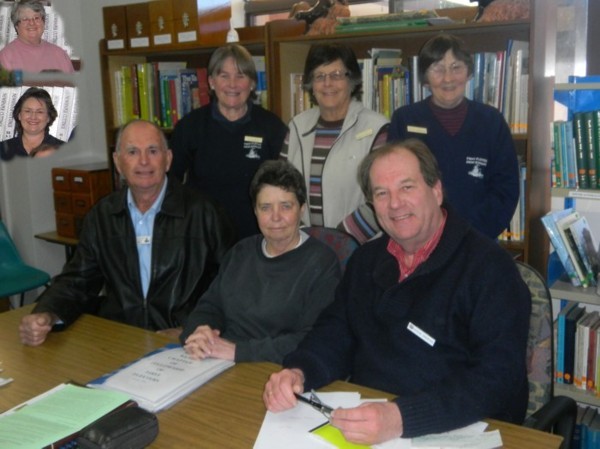 Graham Tydd, Jo Crossing, Steve Docking. Back Row Pat Worrad, Suzanne Musgrove, Diana Harband.